Speaker Profile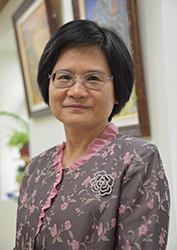 Name: Chen Li-hua
Position: Professor of Graduate Institute of Curriculum and Instruction, Tamkang University
Country: Taiwan (ROC)
Biography
Li-Hua Chen is a Professor of the Graduate Institute of Curriculum and Instruction at Tamkang University. Her expertise focuses on curriculum design, textbook design, social studies education, civic education, and global education.
She has been serving as chairperson or committee member in various national committees in the Ministry of Education, in the Education Bureaus of Taipei City and New Taipei City, and in the National Academy of Educational Research (NAER), such as the National Committee of Curriculum Guidelines Development of 12-Year Social Studies, the National Committee for the Verification of Social Studies Textbooks, National Committee for Localization Education, and National Committee for the Deliberation on 12-Year Basic Education Curricula. In addition, she also has involved with projects in elementary and secondary schools. These experiences have allowed her academic research closely linked to education policies and practices. Therefore, her recent curriculum design model of civic action approach has been widely recognized in the national educational field, and become a core model practiced in a new public lab school in New Taipei City.
Her lately two-year research (2019-2021), funded by Ministry of Science and Technology, focus on the development of civic-foresight curriculum based on the new 12-Year Curriculum Guideline. She also coordinates two new research projects of the NAER specifically on school textbook producing system and the issues of transitional justice in the school textbooks. She has also served in the editor boards of four prestige TSSCI Journals in Taiwan. Since 2012, she has been working from Professor Manabu Sato and "School as Learning Community", which has given her more delicate and humanistic care for professional services and academic researches.