Speaker Profile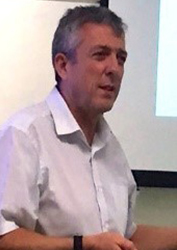 Name: Pete Dudley
Position: Professor, the University of Cambridge, President of the World Association of Lesson Studies
Country: United Kingdom
Biography
Pete Dudley taught for many years in primary and secondary schools in London and is a lecturer and researcher in school leadership and professional, institutional and system learning at the University of Cambridge. He has spent the past 25 years as a school and system leader at local and national levels in the UK. From 2006 - 2011 he ran the government's National Primary Strategy. He has also taught and worked as an education leader and developer around the world. He is President of the World Association of Lesson Studies, founder of Lesson study UK and is a member of Oracy Cambridge: the Hughes Hall Centre for effective spoken language.
Pete is a deep believer in the power of professional learning communities to transform pupil achievement and also in the role of deliberate practice and of 'ground rules' for talk and dialogue in helping these communities to achieve their potential. Hence, there are significant synergies in his work with that of Sato's SLC network from which he has drawn over the past ten years.
Pete will describe the role of professional and school learning communities, lesson studies and school and system leadership in England, Europe and increasingly across the world, and discuss the potential they may have for bringing about global transformations in learning.